Given the economic recovery underway in the US and with summer fast approaching we have taken a look at the potential recovery in US hospitality and Airline stocks. As the summer fever takes grip and many Americans indicating that they will stick to local travel we could see the strong recovery continue through till August. This coupled with the fact that US personal savings rate jumped 5% in 2020 to 12.5% from 2019s 7.5% with average credit scores at an all-time high of 710.
Given the above we have scoured the Market and love the opportunity presented below.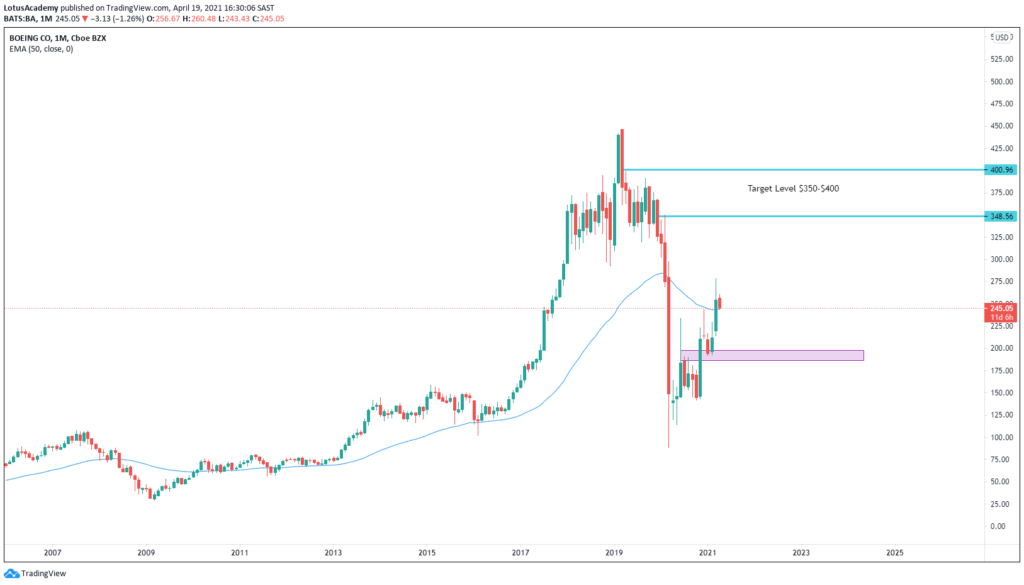 Company Name: Boeing Co. (BA)
Company Summary
The Boeing Company is an American multinational corporation that designs, manufactures and sells airplanes, rotorcraft, rockets, satellites, telecommunications equipment and missiles worldwide. The company also provides leasing and product support services.
Looking at the company on a Monthly timeframe, we see that there is a lot of Opportunity for the Market to Rally to the upside and this is where we have taken our position.
We observed the Monthly timeframe, around the price level of about $194 we have found support and expect an improved second half of the year for Boeing which should continue pushing share prices towards pre-pandemic levels of $350-$400 a share.
We are projecting that the share price of Boeing should hit the price level of about $385 per share and that will be our long-term target. However, Should we see any significant pullback on this we would look for support to hold at the $180-$190 support area. Should that not happen then we could get lower prices as well. Please note we are not entering these positions on Margin Trading Accounts and this just an idea not to be taken as advice.
Boeing Co. (BA)
Long/Buy
Timeframe: Monthly
Potential Target@ $385